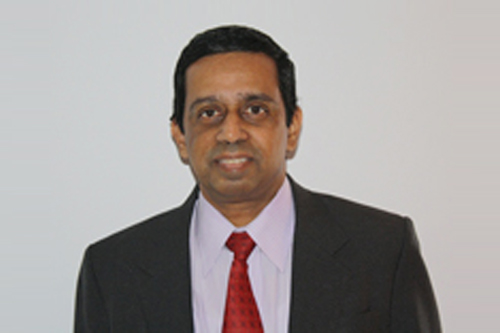 Dr. Srinivas Kankanahalli,
CTO and V.P. of Engineering
In his role as the Chief Technology Officer (CTO), Dr. Srinivas Kankanahalli is responsible for clearAvenue's technology strategy and overall solution architectures. With over 20 years of industry experience, Srini is a technology evangelist, thought leader, and an acclaimed contributor to Service Oriented Architectures (SOA), computer security, Information Assurance and business systems applications.
Srini was a tenured Associate Professor of Computer Science and Electrical Engineering at West Virginia University. Looking for new challenges, he took up the position as a lead architect with the IBM Object Technology Group. After a successful stint at IBM, he moved to Hewlett Packard (HP) as the lead architect for the e-solutions division at Cupertino, CA. He also has held adjunct faculty positions at University of Maryland, and American University (Kogod School of Business).
Srini is a serial entrepreneur and has been a founder of multiple companies. He was a co-founder of CyberMarche, a systems integration company. He was one of the co-founders of Careflow|Net (accquired by Philips Medquist) which implemented state-of-the art patient information systems. He was also the co-founder of a startup called Glopex in Silicon Valley for Business-to-Business transactions in the automotive industry.
Srini holds a bachelors degree in Electrical Engineering from Bangalore University, a graduate degree in Electrical Engineering from Indian Institute of Technology (IIT) Kanpur and a PhD in Computer Science from New Mexico State University.
Srini has published over 60 original research papers in National and International Conferences and Journals on Artificial Intelligence, Distributed Computing, Computer Security, Software Engineering and Network Protocols.
Maura K. Boselowitz
Vice President, Business Development
Ms. Boselowitz is Vice President of Business Development focusing on capture, development and growth strategies within the Department of Navy and larger Department of Defense (DoD) agencies. Prior to joining clearAvenue in March 2016, Ms. Boselowitz held multiple leadership roles within the DoN industry and community as a Business Development executive, Chief of Staff for Space & Naval Warfare (SPAWAR) Systems Center Atlantic's (SSC LANT's) Senior Executive for Network Centric Development and Integration and most recently completed 2 consecutive terms as President of the Women in Defense (WID), Palmetto Chapter. In addition to business development, Ms. Boselowitz has extensive experience in program management, business process engineering, technical operations, process improvement and strategic planning. She is a graduate from St. Mary's College of Maryland, ITIL v3 Foundation and Lean Six Sigma (LSS) Green Belt certified.
Vernon Inniss
V.P. Business Development
Mr. Inniss has over 20 years of experience in commercial and federal government. He has held leadership positions and responsible for successfully leading Capture and Business Development initiatives at the Department of Homeland Security, Treasury, Agriculture/Forest Service/FSA, Housing and Urban Development, Department of Labor, GPO, WHS and others. Vernon is committed to supporting those who are less fortunate and has supported organizations like the Children's Hospitals, homeless veterans and others. He has a studied Marketing, Management & Sales - CUNY New York City College of Technology and Livingstone College.
Nelofur Damiani, PMP, CSM
Delivery Manager
Ms. Damiani is the Director of DHS Programs and leads multiple Business Development and Capture efforts at clearAvenue. Ms. Damiani has 15 years of requirements and project management experience ranging from leading several Federal Bureau Investigation (FBI) projects to managing IT projects at the Department of Homeland Security (DHS) and at Department of Defense (DoD). At DHS, Ms. Damiani managed multiple technology projects including budget, deliverables, project scope, schedule, and staffing. She has advised DHS ICE management on activities and schedules, and monitors the performance of contractor staff on critical IT requirements projects. She is currently leading a DoD Defense Travel System Project Management Office (PMO) contract where she manages resources, requirements, testing, budget and scope across multiple work streams.
John Frazier, PMP, ITIL, MCSE
VP Business Development
Mr. Frazier is a Vice President of Business Development with 25 years of experience. He leads capture of new opportunities and also provides strategic direction to clearAvenue. Mr. Frazier is an ITIL Practitioner in both Service Delivery and Service Support and has led many large successful programs at Department of Transportation, US Census, Department of Defense, and others. He has extensive experience in managing successful Information Technology integration projects, which include analyzing, designing and coordinating the integration of requirements, new business logic and rules, and Data Center Management, through agile or iterative project management. Prior to clearAvenue, Mr. Frazier held leadership positions at Bowhead, General Dynamics, Signal Corporation, and others.